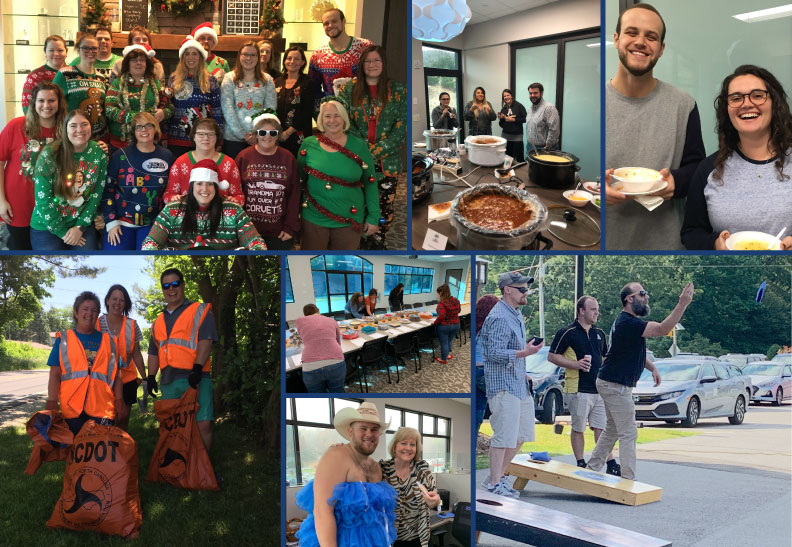 JSA's Charitable Giving Campaign reached a new milestone for 2019 and used more volunteer hours than ever before. In 2019, JSA collected over $18,361 for the annual charity fund. The 2019 campaign amount is the most significant amount ever raised by JSA in their 38-year history.
"We are so blessed to be able to live and work in this area, but the disparity of need is huge," said JSA President & CEO Danielle Wade. "Giving back is part of our corporate culture, and we strive to make it fun and exciting every year."
JSA Employees have a passion for pets, and each year a portion is shared with the local Humane Society. The remaining balance goes to charities chosen by the employees themselves through an annual submission process. For 2019, the chosen charities are the Boone Hunger & Health Coalition Food Backpack Program, Child Life (part of VCU Health Children's Hospital), Matthews Help Center, Brothers Helping Brothers /Carney Strong, and Forsyth Davidson Sunnyside Ministry.
The JSA charitable giving campaign is year-round with several competitions, events, and contests throughout the year. They become social events for employees as well as fundraisers. A year-round JSA charity committee of employees organizes events and is always vetting ideas.
"Our employees are amazingly competitive," laughs Wade. "So anything that becomes a competition is good for fundraising. An Ugly Sweater Contest or Penny War becomes a surprisingly big fundraiser for us because everyone gets passionately involved. Teams will do costumes or get creative with names, and in the end, the charities become the ultimate winners."
"I've never seen anything like it," marveled JSA HR Manager Laura Edmonds. "In any given year, there will be a Thanksgiving bake sale, a chili contest for the Superbowl, a Cornhole competition, a book drive, school supply drives, cookie-grams, and a vacation day auction. And that is just a sampling of the activities designed to raise money and donations for charity."
JSA also believes in service via volunteering with the Appalachian State Brantley Risk & Insurance Center and their Gamma Iota Sigma Chapter, as well as the Adopt-a-Highway program. JSA provided each employee 5 hours of paid time off in 2019 for charitable service to any organization with which they chose to volunteer. For 2020, JSA has committed to increasing that to 6 hours of paid volunteer time per employee.
"Give people options on contributing – when, where, and how – and they will choose to be generous," stated Edmonds. "We have so many employees with generous hearts and amazing talents; we simply HAVE to share that with the community."