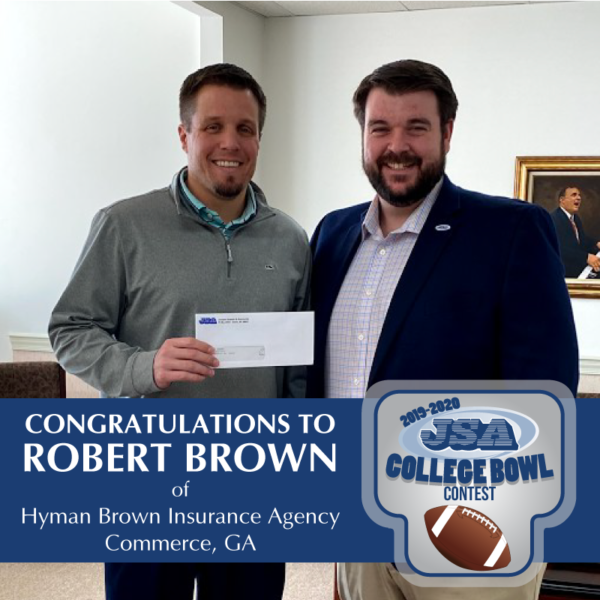 The 2019-2020 College Football Bowl Game Contest is complete.
Congratulations to Robert Brown of Hyman Brown Insurance Agency in Commerce, GA! 
It was a tight race until the very end. Rob only missed 3 games the entire contest. It all came down to points, with Linda Fox picking a low number of 21, and Rob picking a high 75. Ultimately, that was a good strategy, and his final game score was closest. Well done, Rob!
Here's the Championship recap:
"The Louisiana State Tigers finished out a great season, beating the Clemson Tigers 42-25 in the College Football Playoff National Championship last night. Heisman winner Joe Burrow passed for 463 yards and five touchdowns while rushing for one score without throwing an interception. The eye-popping stats came against the country's top-rated defense and helped Burrow set a single-season record for touchdown passes (60) and touchdowns accounted for (65). Burrow is also projected to be the first player taken in the NFL draft – probably to the Cincinnati Bengals.
It was Clemson's first loss in 29 games, having won two of the past four national championships, and the first college loss for sophomore phenom quarterback Trevor Lawrence. With Lawrence returning, Vegas gives Clemson 2-1 odds to win next year's championship, followed by Alabama (4-1), LSU (9-2), and Ohio State (7-1)."
Standings updated 01/14/2020 08:35 am
Place
Name Last,First
Total
Points
Possible
Points
Pick
Pct.
Tie
Break
1
Brown, Robert
28
28
88%
75
2
Fox, Linda
28
28
88%
21
3
Piner, Bill
27
27
84%
61
4
Clark, Austin
27
27
84%
59
5
Michael Mashburn
27
27
84%
76
6
Flynn, Kathy
27
27
84%
54
7
SMITH, MARILYN
26
26
81%
64
8
Shah, AJ
26
26
81%
63
9
Blumenthal, Marc
26
26
81%
60
10t
Mike Williams
25
25
78%
69
10t
Evans, Matthew
25
25
78%
69
12
SMITH,BRIAN
25
25
78%
63
13
Bressler, Susan
25
25
78%
72
14
O'Brien, Michael
25
25
78%
58
15
brown, matt
25
25
78%
79
16t
Murdock, Steve
25
25
78%
54
16t
Pollock, Eddie
25
25
78%
80
18
Meadows, Jason
25
25
78%
49
19
Blocker, Deborah
25
25
78%
42
20
Crouse, Frankie
25
25
78%
41
21t
Carter, Courtney
24
24
75%
66
21t
Helsabeck, Charles
24
24
75%
68
23
Beasley, Chris
24
24
75%
65
24t
White Thom
24
24
75%
70
24t
Fisk, Chris
24
24
75%
64
26
Parker, Katrina
24
24
75%
63
27
culpepper, Scott
24
24
75%
62
28
Hicks, Paul
24
24
75%
75
29t
Corey, Alexis
24
24
75%
58
29t
Eller, Tammy
24
24
75%
58
29t
Payne, Michael
24
24
75%
58
32
Pearce, Jeremy
24
24
75%
57
33
Farris, Michael
24
24
75%
51
34
DERALD STRICKLAND
24
24
75%
87
35
Collins, Becky
24
24
75%
45
36
Gaddy, Suellen
24
24
75%
42
37
Williams, Jerry
24
24
75%
41
38
kilgore, teri
24
24
75%
32
39
Poarch, Felicia
24
24
75%
7
40
Butler, Dianne
24
24
75%
6
41t
Mitchum, Tera
23
23
72%
66
41t
Odrezin, Steven
23
23
72%
68
41t
Shepherd, Lewis
23
23
72%
66
44
Isley, Lee
23
23
72%
63
45t
Blackburn, Scott
23
23
72%
62
45t
Phillips, Tamera
23
23
72%
62
47
Roach, Ashley
23
23
72%
73
48
Comer, Jimmy
23
23
72%
74
49t
Lester, Elizabeth
23
23
72%
75
49t
BREEDEN, SPENCER
23
23
72%
75
51t
Carrick, Drue
23
23
72%
56
51t
Newsome,Antwonne
23
23
72%
56
51t
Paulus, Chris
23
23
72%
56
54
Zachary, Brandon
23
23
72%
81
55t
GARRISON, MIKE
23
23
72%
52
55t
Mobley, Teresa
23
23
72%
52
57
Hamrick, Larry
23
23
72%
49
58
MCALLISTER, WILLIAM
23
23
72%
46
59
Whitley Mike
23
23
72%
39
60
Bollinger, Cynda
23
23
72%
34
61
Hudgins, Bonnie
23
23
72%
30
62
Jones, Suzanne
23
23
72%
17
63
Carr, Jessica
23
23
72%
3
64t
Nichols, Kelly
22
22
69%
66
64t
Hundley,Scott
22
22
69%
66
66
Beard, Michael
22
22
69%
64
67t
Beckwith, Brian
22
22
69%
63
67t
Hill, Toni
22
22
69%
63
69t
Walker, Alex
22
22
69%
59
69t
Kay, Richard
22
22
69%
75
69t
Hendricks, Will
22
22
69%
59
72
roberts, susan
22
22
69%
76
73t
williams, Adam
22
22
69%
77
73t
Odom, Monica
22
22
69%
57
73t
Thompson, Cody
22
22
69%
57
76t
Beacham, Logan (Sal)
22
22
69%
78
76t
Cochran, Melissa
22
22
69%
56
76t
MACE, JORDY
22
22
69%
78
79t
Waller, Cheryle
22
22
69%
55
79t
Jacobsen, Justin
22
22
69%
55
79t
Byrne, Robin
22
22
69%
55
82
Lester, Steve
22
22
69%
82
83
HEDSTROM, NORMA
22
22
69%
50
84t
glasscock, larry
22
22
69%
48
84t
Garrison, MeLessa
22
22
69%
48
86
Wagner Steve
22
22
69%
47
87
Roberts, Catherine
22
22
69%
88
88
Lee, Ginger
22
22
69%
43
89
Paola A Galvis
22
22
69%
42
90
Jilson, Robin
22
22
69%
41
91t
Jovich, Teresa
22
22
69%
35
91t
Ledford, Janice
22
22
69%
35
93
Berry Sandra
22
22
69%
28
94
BENNETT, DAWN
22
22
69%
25
95
Harrell, Tim
22
22
69%
21
96
NELSON Carole
22
22
69%
16
97
IDA HIPKINS
22
22
69%
10
98
Smith, Lydia
22
22
69%
2
99t
Bolton,Ross
21
21
66%
65
99t
WARREN, RAY
21
21
66%
65
101
Madore, Jill
21
21
66%
70
102
Frazier, Matt
21
21
66%
62
103
Dyson, Shaina
21
21
66%
73
104
Thompson, James
21
21
66%
74
105t
Sherrill, Jodi
21
21
66%
59
105t
Wright, Jonathan
21
21
66%
59
107t
Billingsley, Jamie
21
21
66%
58
107t
Crews, Charlie
21
21
66%
58
109t
Murphy, Tiffany
21
21
66%
55
109t
Reynolds, Michele
21
21
66%
55
109t
Neal, David
21
21
66%
55
112t
Kendall, Bill
21
21
66%
54
112t
Spencer, Jamie
21
21
66%
80
112t
Carey, Kathy
21
21
66%
54
115t
Smith, Lisa
21
21
66%
52
115t
Pearson, Beth
21
21
66%
52
115t
Byars, Ilesha
21
21
66%
52
115t
Veltman, Cindy
21
21
66%
82
119t
Marshall, Jennifer
21
21
66%
50
119t
HIERS, Robert
21
21
66%
50
121t
Alexander, Vaughan
21
21
66%
49
121t
Yost,donna
21
21
66%
49
121t
Zimmerman, Barry
21
21
66%
49
121t
Bullock, Arnie
21
21
66%
49
125t
Douglas, Crystal
21
21
66%
48
125t
Paxton, Dory
21
21
66%
48
125t
Brooks, Rhonda
21
21
66%
48
125t
BARILARI, KASEY
21
21
66%
48
129
Robert Efird
21
21
66%
46
130t
Gormish, kevin
21
21
66%
45
130t
Carter, Cooper
21
21
66%
45
130t
KNOTT,SALLY
21
21
66%
45
133
Dirks, Corbin
21
21
66%
44
134
Craighead, Gordon
21
21
66%
43
135
Melton, Robin
21
21
66%
95
136t
Lanford, Amanda
21
21
66%
38
136t
Freeman Sam
21
21
66%
38
138
Brissette,jeff
21
21
66%
37
139
Campbell, Jacob
21
21
66%
36
140
Hodges, Carolyn
21
21
66%
23
141t
Higgins, Gina
21
21
66%
7
141t
Kathleen McCluer
21
21
66%
7
141t
Alston, Martha
21
21
66%
127
144
cummings, tia
21
21
66%
3
145
Mason, Tera
21
21
66%
150
146
MACE, LISA
20
20
63%
67
147
Hill, James
20
20
63%
68
148
Waugh, Trey
20
20
63%
65
149
Smith, Stephen
20
20
63%
70
150t
Hobson, Christy
20
20
63%
63
150t
Oxford, Chris
20
20
63%
63
152t
Brigman Tony
20
20
63%
62
152t
penland,steve
20
20
63%
62
152t
Callicutt, Betty
20
20
63%
72
152t
Fowler, Don
20
20
63%
62
156t
Healy, Patrick
20
20
63%
61
156t
Hardy, Rose
20
20
63%
73
158t
Wactor, Scarlett
20
20
63%
74
158t
Nosenzo, Jeff
20
20
63%
60
158t
Stanberry, Kevin
20
20
63%
60
161t
Ferguson, Lea anne
20
20
63%
59
161t
Utter, Parker
20
20
63%
75
161t
Crigler, Brice
20
20
63%
75
164
Penland, Whitney
20
20
63%
58
165t
Carroll, Shannon
20
20
63%
57
165t
Ford, Greg
20
20
63%
57
165t
Davidson, Justin
20
20
63%
57
165t
Kilgo, Jason
20
20
63%
77
169t
Byrd,Tim
20
20
63%
78
169t
Chambers, Christina
20
20
63%
56
171
Anders, Sterling
20
20
63%
55
172t
Gattis, Donna
20
20
63%
54
172t
BUCHHOLZ, KIMBERLY
20
20
63%
54
174
CARRICK, DEKE
20
20
63%
81
175t
butler, charles
20
20
63%
84
175t
Principi, Shawn
20
20
63%
50
175t
Stephen Parker
20
20
63%
84
175t
Davis, Paula
20
20
63%
84
179
Tripi, Steve
20
20
63%
85
180t
Hawkins, Robin
20
20
63%
48
180t
Oxendine,Earl
20
20
63%
48
180t
Allmon, Joyce
20
20
63%
48
183
Stapleton, Lisa
20
20
63%
88
184t
Byrd, Brittany
20
20
63%
45
184t
Nash, Jared
20
20
63%
45
186
malpass felicia
20
20
63%
42
187t
Belbin, Cammy
20
20
63%
41
187t
Hancock, Ken
20
20
63%
41
187t
Skipper, Denise
20
20
63%
41
190
BROOKS, CATHY
20
20
63%
39
191t
WINANS,KATHLEEN
20
20
63%
36
191t
Hesley, Chris
20
20
63%
36
193
Collins, Kimberly
20
20
63%
101
194
Gelatt, Danny
20
20
63%
31
195
Harper, Ashley
20
20
63%
30
196t
Leonard, Melody
20
20
63%
28
196t
Isaacs, Kimberly
20
20
63%
28
198
Burnette, Corinna
20
20
63%
25
199
Kincaid, Charlotte
20
20
63%
22
200
York, Beverly
20
20
63%
14
201
EURE, KOURNTEY
20
20
63%
13
202
Lane, Erica
20
20
63%
10
203
Bryant, Brooks
20
20
63%
5
204
LEATHERWOOD, MELISSA
20
20
63%
3
205
Malott, Angela
20
20
63%
136
206
Dana Garrett
19
19
59%
68
207t
Wood, Thomas
19
19
59%
69
207t
Simmons, Andy
19
19
59%
65
209t
Sauls, Lucinda
19
19
59%
63
209t
Woodberry, Sylvia
19
19
59%
63
211t
WINFREE, DENNIS
19
19
59%
62
211t
Stilley, John
19
19
59%
62
211t
Simmons, Robert
19
19
59%
72
214
Knowles, Laura
19
19
59%
73
215t
Bennetch, Craig
19
19
59%
59
215t
POWERS,JOHN
19
19
59%
59
217t
Bowers, Joshua
19
19
59%
58
217t
Cureton, Courtney
19
19
59%
58
219
Ward, Rhonda
19
19
59%
55
220
Bealton, Molly
19
19
59%
80
221t
Liewis, Elizabeth
19
19
59%
53
221t
Cole, Renee
19
19
59%
53
223t
golden, jennifer
19
19
59%
52
223t
Whittington, Dennis
19
19
59%
52
223t
Barker, Heather
19
19
59%
52
226t
Woodward, Will
19
19
59%
50
226t
Mims, Jonathan
19
19
59%
84
228t
Reep, Brian
19
19
59%
49
228t
Johnson, Christie
19
19
59%
49
228t
Anderson, Lora
19
19
59%
49
231
Erbschloe, Scott
19
19
59%
48
232
Jones, Christy
19
19
59%
47
233t
Donald B Barefoot
19
19
59%
89
233t
Stephens, Sandra
19
19
59%
45
233t
Holmes, Boyd
19
19
59%
45
236t
Pressley, Pamela
19
19
59%
44
236t
DELAY, WENDY
19
19
59%
44
238
Brenda Dipple
19
19
59%
42
239t
Ball, Thomas
19
19
59%
41
239t
Slavin, Judy
19
19
59%
41
241
Blount, Jason
19
19
59%
40
242
York Amy
19
19
59%
96
243
VANN, MITCH
19
19
59%
36
244
Sweigart, Laura
19
19
59%
35
245t
Brinson, Tijuana
19
19
59%
34
245t
Connor, Oliver
19
19
59%
34
247
Fera, Kyle
19
19
59%
108
248
Branson, Tracey
19
19
59%
25
249
Smith, Carol
19
19
59%
14
250
Lingle, Ashlyn
19
19
59%
8
251
Brewer Karen
19
19
59%
7
252t
HUDLER WILLIAM
18
18
56%
65
252t
Dalton, Laine
18
18
56%
65
254
White, Stephen
18
18
56%
63
255t
Stanley, Chrissy
18
18
56%
72
255t
Layden McDaniel
18
18
56%
62
255t
Bryant, Amber
18
18
56%
72
258
GARRISON, VANESSA
18
18
56%
58
259
BRYANT, BOBBY
18
18
56%
52
260t
morton, julie
18
18
56%
51
260t
Hines, Anita
18
18
56%
51
260t
Wagstaff, Joe
18
18
56%
83
263t
DENNIS,BRYANT
18
18
56%
49
263t
HICKS, TERRY
18
18
56%
85
265t
Gill, Ray
18
18
56%
48
265t
Bouknight, Ty
18
18
56%
48
267
Songer, Lee
18
18
56%
46
268t
Howard,Laurie
18
18
56%
45
268t
Dean, Robin
18
18
56%
45
268t
Boyles, Jennifer
18
18
56%
45
271
McGahey, Gary
18
18
56%
43
272
Lawing, Anthony
18
18
56%
42
273
Ash, Jen
18
18
56%
37
274
RIGDON, ROSEANNA
18
18
56%
36
275
Hayes,Kelly
18
18
56%
32
276t
Trout, Missy
18
18
56%
104
276t
Cheeks, Joann
18
18
56%
30
278
Ward, Donna
18
18
56%
16
279
Lance,Gary
18
18
56%
9
280
Ellis, Barbara
18
18
56%
7
281
Collins, Amy
18
18
56%
2
282
Michael, Cindi
18
18
56%
155
283
Gafnea, Lorraine
18
18
56%
208
284
sacca, nicholas
17
17
53%
69
285
Cook, Rob
17
17
53%
70
286t
Kelly, Sean
17
17
53%
63
286t
Cooper, Melissa
17
17
53%
63
288t
Dail, Rea
17
17
53%
62
288t
RODRIGUEZ, DANIELA
17
17
53%
62
290
Sloan,Sherry
17
17
53%
61
291
WILSON,REBECCA
17
17
53%
60
292
Dillard, Ben
17
17
53%
77
293
Harrison, Stacy
17
17
53%
56
294
Harsh, JIm
17
17
53%
55
295
Scott, Hope
17
17
53%
53
296t
Danya Shiver
17
17
53%
52
296t
Lynn, James
17
17
53%
52
296t
Thomas, Brad
17
17
53%
52
299
Hamlett, Dustin
17
17
53%
49
300t
Settle-Brown, Bonnie
17
17
53%
48
300t
Fields, Shela
17
17
53%
48
302t
Morse, Heidi
17
17
53%
45
302t
Hunt, Dwayne
17
17
53%
45
302t
Lipford,Lyndsey
17
17
53%
45
305
Brett Cleaves
17
17
53%
44
306
Barnes, Donna
17
17
53%
43
307
Grullon, Juan
17
17
53%
42
308
Muse, Kim
17
17
53%
100
309t
Cremeans, Verna
17
17
53%
28
309t
Marcoccia, Deirdre
17
17
53%
28
311
Brown, Lori
17
17
53%
26
312
Hildebrand, Tonya
17
17
53%
14
313t
Rouse Norma
17
17
53%
13
313t
Sheehan, Liza
17
17
53%
13
315
MOWERY, DAVID
17
17
53%
12
316
Storey Virginia
17
17
53%
9
317
Motley, Teresa
17
17
53%
6
318
Hanley, Marisa
16
16
50%
66
319
Stowe, Erica
16
16
50%
70
320
Kovatch, Matthew
16
16
50%
73
321
Whitaker,Eric
16
16
50%
60
322
Good, Terri
16
16
50%
55
323
Fain, Max
16
16
50%
54
324
Meyers, Corrine
16
16
50%
48
325
Holden, Angie
16
16
50%
45
326
Smithson, Kristina
16
16
50%
43
327
Heasley, W.E.
16
16
50%
41
328
Tatum, Johnny
16
16
50%
39
329
Crawford, Laura
16
16
50%
36
330
Moore,Carla
16
16
50%
34
331
Robinson,Carol
16
16
50%
3
332
Jordan, Carolyn
16
16
50%
135
333
Tunney, Maureen
15
15
47%
59
334
Stockton, Kyle
15
15
47%
57
335
Talley Donna
15
15
47%
49
336
Simms, stacey
15
15
47%
20
337t
Cox, Mike
15
15
47%
3
337t
Watts, Linda
15
15
47%
3
339
Fulford, Brittany
15
15
47%
188
340
Spicer, Jim
14
14
44%
32
341
Mausling, Diana
14
14
44%
2
342
Neely, Debra
14
14
44%
167
343
rogers christy
13
13
41%
66
344
Rountree, Nancy
13
13
41%
58
345
Seaford, Cathy
13
13
41%
48
346
Hensley, Pam
12
12
38%
52